Dance clubs and ethnic/music organizations that have been designated by readers to receive donations. These groups are in the running to receive additional cash prizes in summer 2018.
Dance Clubs
Texas Heritage Music & Dance Club
Swiss Alp Dance Club, Schulenburg
Polka Lovers Klub of America Texas Chapter
Goodtime Polka & Waltz Club, New
Braunfels
Happy Cousins Dance Club, Rosenberg
Sealy Dance Club
Cajun French Music Association, De Fa Tras Chapter, San Antonio
Wallis Dance Club
Wall Dance Club
Organizations:
Texas Polka Music Museum, Schulenburg
Texas Czech Heritage & Cultural Center,
La Grange
Fayette County Opry, La Grange
Tomball Sister City Organization
San Antonio Accordion Association
Polka Lovers Club of Texas Museum,
La Grange
International Polka Association
Fort Bend Czech Heritage Society
Bexar County Czech Heritage Society
Other clubs/organizations designated by readers include Wawel Dance Group, Houston; Austin Czech Historical Association; Czech Heritage Society of South Texas, Czech Music Museum of Texas, La Grange; Keine Kunst Dance Group, Houston; Liederdranz, Houston; London Hall; Taylor Czech Chorus.
Texas Polka News Launches Subscription Drive
Gives Back to Texas Music Community in Celebration of 30th Anniversary
Texas Polka News will mark its 30th anniversary in 2018. To celebrate, we're launching a drive to reach 3,000 subscribers. Sure, we want more people reading The News, but we also want to give back to say thanks for supporting the newspaper, polka, and Texas music/ethnic heritage.
Here's how it works: For every new subscription or renewal from now through January 2018, TPN will donate $5 of the subscription price to a dance club or music/heritage organization of your choice. Not only will your group benefit from the donated subscription money, $3,000 in prizes will be awarded in June 2018 to those groups who brought in the most subscriptions/renewals.
Examples of dance clubs are Polka Lovers Klub of America, Texas Heritage Music & Dance Club, Swiss Alp Dance Club, Cajun French Music Association, Sealy Dance Club, Wallis Dance Club, DaCosta Western Dance Club, and German/Czech/Polish performance groups, such as high
school clubs, Wawel Polish dance group, Keine Kunst dance group.
Examples of organizations are Polka Lovers Club of Texas Museum, Texas Polka Music Museum, and other heritage museums, Texas Czech Heritage & Cultural Center, PolkaWorks, Texas Folklife, Texas Dance Hall Preservation, South Texas Czech Heritage Society, German-Texan Heritage Society, Bluebonnet Opry and other oprys, and libraries.
Legacy Started by Julius Tupa
The paper was started by musician Julius Tupa of Houston in 1987 with the mission to preserve and promote polka music and dance. When Tupa passed away in 2002, his wife, Marie, continued as publisher, and his friend, John Rivard, took the reins as volunteer editor. Rivard stepped down as editor in June 2014, and Tupa sold the paper to Theresa Cernoch Parker, who resumed publishing in September 2014. Parker also founded polkabeat.com in 2010 in memory of her dad, Willie "Bill" Cernoch, to promote polka music and heritage. After two full years of publishing under the guidance of Parker and Editor Gary E. McKee, of Fayetteville, the paper has been hailed as the premier polka publication in the nation.
The monthly, full-color publication features a calendar listing of dances, festivals, and live music events, not only in Texas, but in the U.S. as well. The back page features polka smiles brought to you by Slovacek's Sausage. McKee uses his background as a Texas historical author and photo journalist to bring to life the history of bands, instruments, and dance traditions. Parker brings her Czech/German heritage, and years as a journalist/writer to promote Texas musicians, bands, and dance halls.
Polka lovers are also dance lovers, and Parker and McKee have continued the tradition, started by Rivard, of covering other genres of music, including Country, Western Swing, and Cajun. And the paper has stepped up coverage of oprys and other live music venues across the state as a tribute to Texas Roots Music.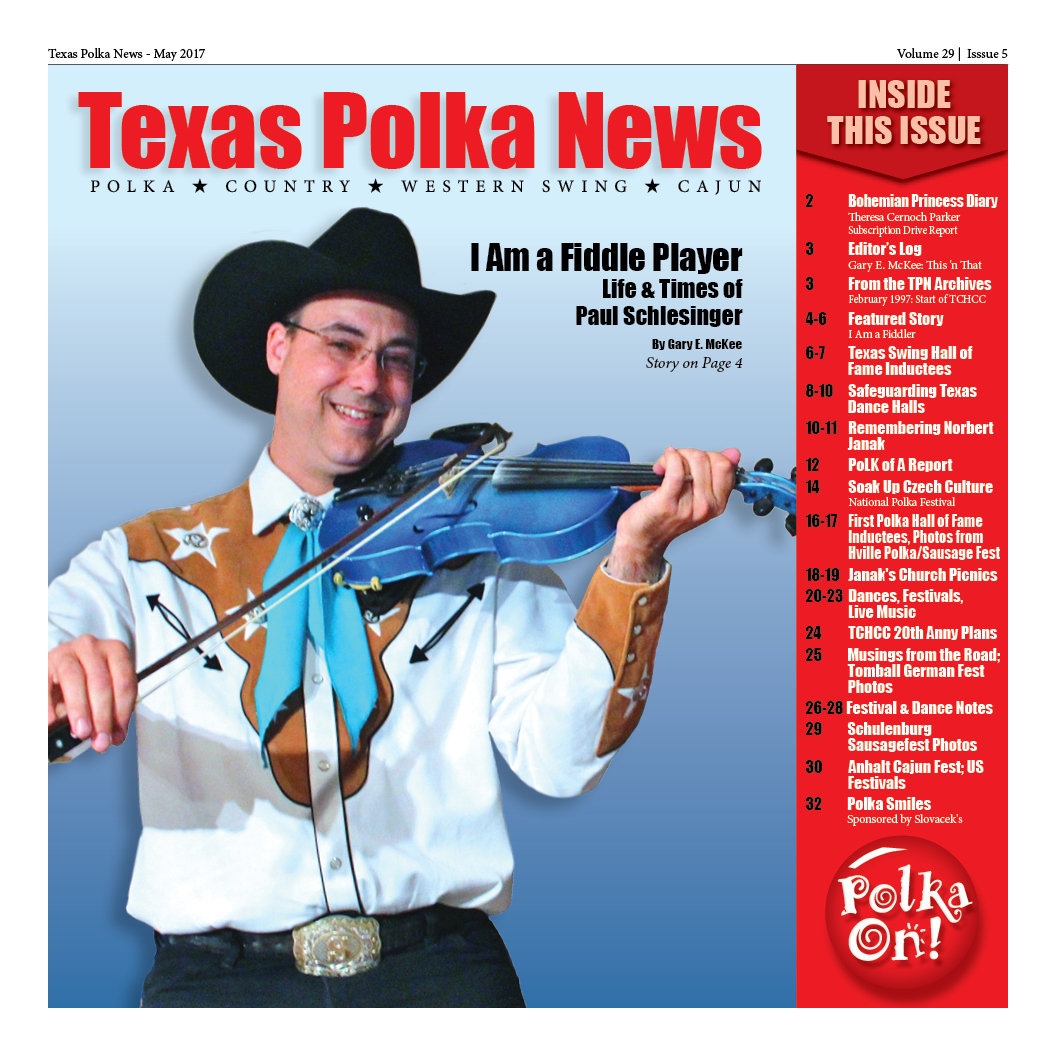 Fiddler Paul Schlesinger Featured in May
Meet Paul Schlesinger, recently awarded the 2016 Song of the Year by the Will Rogers Academy of Western Artists for his rendition of You Were Meant to Ruin My Dreams. Find out who was inducted into the Texas Western Swing Hall of Fame, and who was inducted into the first Polka Hall of Fame in Hallettsville. Also in this issue, the state of Texas Dance Halls from a Colorado writer's perspective...We remember musician Norbert Janak...Debut of Musings from the Road with first contributor Alex Meixner...Texas Czech Heritage & Cultural Center gets ready to celebrate 20 years.
Questions? Contact Theresa Parker at 281-836-5362 or theresa@polkabeat.com.
Let's Do This!